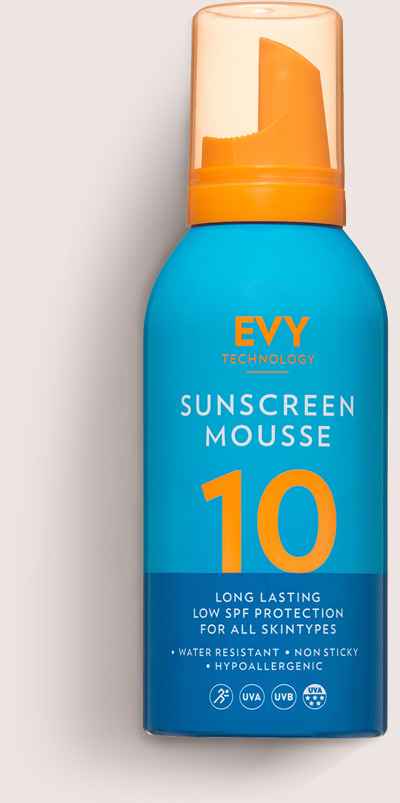 10 Low Protection SPF
This product is recommended for those who rarely or never burn. It is also suitable for more robust areas that have already got some colour or as an alternative if you are in weaker sunlight or not going to be out for so long. SPF 10 means that 1/10 of UVB rays through. Protection blocks 90% of UV rays, provided you use the amount recommended. Just like all our products it has the highest UVA protection, over 90%.
Notkun
Shake the bottle and hold it upside down so that no extra gas escapes. Push gently to get the desired amount of mousse. It's better to take smaller amounts more often. Rub the mousse between your hands so that it becomes more liquid-like and massage it thoroughly in each area of the body. A dab the size of a golf ball covers an adult's arm, approximately. If you have used the right amount of mousse, it should be dry in about 5-10 minutes, and the skin should then feel quite greasy. If it dries out faster, you've used too little (or you have dry skin and need more mousse). If you can still feel the mousse after about 10 minutes, you can rinse off excess with water without losing any of the protection. 1 bottle is enough for about 10 full applications for an adult size body. Don't forget to let the mousse dry thoroughly before bathing or putting on clothes.
Innihald
Aqua. Propylene glycol. Ethylhexyl salicylate. Butane. Octocrylene. Butyl Methoxydibenzoylmethane. Palmitic acid. Propane. Stearic acid. VP / Hexadecene copolymer. Isobutane. Polysorbate 20. PVP. Triethanolamine. Glycerin. Dimethicone. Disodium EDTA. 150 mL
Um
Innihald
Notkunarleiðbeiningar